About Crystal Palate
Crystal Palate is a wine education, consulting and multi-media company based in Coastal Virginia owned by Sommelier Crystal Cameron-Schaad. Whether you are interested in growing your business with interactive podcasts and engaging videos, adding a sparkling presentation to your next event or wine consulting and menu planning, Crystal Palate has you covered. Contact Crystal via phone at (757) 337-5322 or email for more information.
Radio Show Host
Crystal Palate's Wine Country, a wine & lifestyle show, airs Saturday mornings at 8:30am on Cville 107.5 and 1260 WCHV in the Charlottesville, Virginia market. You can stream the show live nationwide by searching for WCHV on the Tune In App.  The show primarily focuses on Virginia's growing and dynamic wine industry. Please contact us for guest and sponsorship opportunities.
Keynote Speaker
Are you looking for a unique, interactive and engaging speaker for your next event? We have you covered! A Crystal Palate wine education presentation is the perfect pairing for your next conference, corporate event, fundraiser, networking reception or ladies luncheon. Crystal Cameron-Schaad, a sommelier, speaker and radio show host will provide a first class experience for you and your guests. Contact Crystal via phone  (757) 337-5322 or email for more information.
Multi-Media Services
Our goal is to provide educational and engaging content for the wine industry from someone who speaks their language but also has the ability to break down the complex science of winemaking into engaging content for consumers. Crystal Palate offers an array of multi-media services specifically designed to help promote the wine industry including podcasts, digital shorts and freelance writing projects. Contact Crystal via phone  (757) 337-5322 or email for more information.
Wine Consultant
Are you a caterer, event planner or small restaurant owner looking for expert wine advice? Crystal Palate can help you develop an extraordinary wine list that will complement your cuisine, delight your guests and boost your bottom line.  Having a full-time Sommelier on staff may be a luxury, but consulting one regularly is a must for your business. Contact Crystal via email or give us a call at 757-337-5322 for more information.
Meet Crystal: Your Expert Guide to Great Wine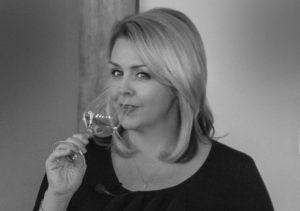 Hello and thanks for stopping by. My company, Crystal Palate, has been several years in the making and my love of wine and my desire to create such a company has long been my passion. As is the same for many entrepreneurs, the road to owning my own company has been a winding one. I spent more than a decade working in the broadcast industry; as an anchor, political reporter and producer. Most recently, I served as the national public relations director for a Fortune 500 company. While the work was exciting and rewarding, I knew it wasn't my true passion. So, I took a leap of faith, and a bit of a calculated risk, and stepped away from the corporate world to pursue my first passion, my love of great wine.
Pursuing My Dream & Credentials
After deciding to exit the corporate world, I studied with the Court of Master Sommeliers and became a Certified Sommelier. I also obtained my advanced certification with the Wine Spirit & Education Trust (WSET). Currently, I am working on my diploma certification with the WSET. Once I complete that program, I hope to pursue my Master of Wine certification with the Institute of Masters of Wine out of London, England.
Crystal's Love of Wine
At the age of 22 while working at a wine bistro in Orlando, Florida, I discovered my first true love – a Brunello di Montalcino -which sparked my lifelong romance with the fruit of the vine. The world of wine has always been a fascinating one for me. Each varietal distinct. Every bottle waiting to be uncorked at precisely the right moment to unleash its own unique story. I look forward to sharing my love and expertise of wine with you and am honored to serve as your expert guide to great wine.
Crystal's Philosophy on Wine
I find some wines are much like people, with some being more expressive and vibrant than others. A young Pinot Grigio opens up quickly much like a talkative teenager whereas a middle aged Bordeaux shows cautionary restraint before it unleashes its emotional depth – layer by layer. On the other end of the spectrum, a well aged Madeira reflects maturity, patience and the importance of time. With a life span that exceeds many great empires, this wine has seen it all from heartache and ecstasy, to elation and great sorrow. This wine is much like having a treasured conversation with a long lost relative.
More about Crystal Cameron-Schaad
I also love to travel and spend quality time with family and friends including my amazing husband, WAVY-TV news anchor, Tom Schaad and our sweet golden retriever Sophie. Tom is responsible for the beautiful photography on the Crystal Palate website. When I am not exploring the world of wine, I love to volunteer.I currently serves on the Board of Trustees for the Virginia Chapter Board Chair for the Leukemia & Lymphoma Society.
What People Are Saying About Crystal Palate
"Crystal is a wine goddess. She is amazingly knowledgeable, incredibly well-poised, and so articulate when it comes to wine that you can tell that it is her passion through and through."

~Katie & Van Smith, Richmond, VA

"Selecting the right wine for the right occasion has always intimidated me. Crystal makes it fun and easy. She has helped with everything from recommendations for parties to selecting the perfect hostess gifts."

~Megan Morris, Norfolk, VA